Backstreet Boys "In A World Like This" Tour Review
Universal City - 9/4/13
When the Backstreet Boys "In A World Like This Tour" dates were announced the only date closest to me was in Concord, CA. Concord is about 45 minutes away from my house. I thought that was going to be the only show I'd see for this tour. I considered going to the Southern California show in Irvine but I couldn't find a decent ticket during the pre-sales.
It turns out many fans didn't have much luck finding close seats during the pre-sales too. The pit section in front of the stage didn't come up. The best tickets I could get for Concord was in the first row off to the side in the orchestra section.
Then sometime in July more shows were announced for the tour. One was in Universal City, CA at the Gibson Amphitheater. I thought that if go to that show and buy a ticket through VIP Nation I could get a pit ticket. I later found out that wasn't true. About a week before the show pit tickets were released for all the California shows. I already had a ticket for Concord and Universal City so I passed. I didn't want to go through the hassle of reselling.
Since Universal City is about 2 hours away from Irvine and pit tickets were released, I decided close to the last minute to go. I wanted to at least experience pit one time because of all the wonderful reviews I've read online.
I was very lucky enough to get a free one night hotel stay in Universal City from 9/4 to 9/5. I have American Airlines miles so I redeemed it for one night at Hilton Universal. One night typically runs for about $220 but thanks to my miles I didn't pay anything for the room. I only had to pay $24 for parking which I didn't mind since the room was free.
The staff at the Hilton was also very accommodating to my requests. I let them know that I was doing VIP and going to the concert. They allowed me to check-in early, upgraded me to a 2 queen room on the 18th floor, and also let me check-out late at 2 PM.
My dad was my road trip buddy. Although he called himself my bodyguard. Part of the reason I wanted him to go with me was because for Universal City I bought Platinum VIP. That VIP includes going on stage with Backstreet Boys for 3 songs. I wanted someone to film me while I was on stage.
My dad and I arrived to the Hilton at around 2:30 PM. I quickly got ready and then we took the shuttle from the Hilton to City Walk. City Walk is a place that has stores and restaurants next to Universal Studios and the Gibson Amphitheater. It was about 3:45'ish already and I was very concerned I'd be late for VIP check-in. Check-in started at 3:15 PM. I still get paranoid about missing half of VIP since it happened to me in 2010 when I had Gold VIP in Canada.
From my previous VIP's, check-in is usually near the box office so my dad and I are power walking toward it. About halfway there I bump into Tammy who is Courtney's mom and her friend Laura. (I stayed in Tammy and Courtney's timeshare in January for Nick's birthday in Las Vegas.) Tammy said they just came from the box office and they were told check-in was happening somewhere else. I followed them and I saw already fairly long line inside an alley.
My dad didn't have VIP so he went to explore City Walk while I wanted in line for VIP. I was very relieved I wasn't late. Justin from Ground Control was still near the front of the line checking people in. When he got to me, I immediately saw my name on his list.
I noticed my name was in a circle so I asked him, "Why is my name in a circle?"
Then he explained it's because I bought a VIP Nation package. He told me that when VIP is over that I had to come back outside and pick up my ticket here at the same place we were standing in line. (What a pain and not very VIP! lol)
It's more waiting. I chatted with some fans I've met from past events. I also passed some of my boredom by checking Twitter/Facebook/Instagram/E-
mail. On Instagram I saw Nick had posted an ultra sexy picture of himself shirtless. That was delicious.
Then I checked my e-mail and to my surprise that's when I discovered I won an iPad from Cash4Books! Cash4Books is a website that buys used books online. I've personally used their services multiple times in the past. If you have any books you want to sell you can go to their website here:
http://www.cash4books.net/?ref=179892
Inside I was freaking out but I didn't want to brag so I kept it quiet until I was 100% the iPad was going to be sent to me.
While I was in line one of the ladies asked me what the blue VIP pass means. Even though the pass looks blue it's actually platinum. I told her it's everything gold VIP has but comes with a poster and a chance to go on stage with Backstreet Boys for 3 songs.
She jokingly says to me don't cry when you're up there. I told her I won't. I'm not really a crier anyway when it comes to Backstreet Boys. Then she says I want the blue VIP pass. She said that her husband arranged her and her friends' VIP. I saw they had silver. I saw her talk to one of the Ground Control guys who I found out later, his name is Nick. He discreetly switched their passes from silver to gold. I don't know who her husband is but damn, I want a husband that can hook me up with Backstreet Boys VIP! Pffft it'd be even better if my husband was a Backstreet Boy ;)
The long line of Backstreet Boys VIPs is then divided by the different colors.
I go into the Platinum line with a fellow Bay Area fan named Rachel who I met in 2010 during the NKOTBSB show in Anaheim. There were more platinums than I expected. I was hoping since the show was announced late that it'd be a small group. Rachel and I were toward the end of the line but it worked out for us. When we entered the venue we in the front row close to center stage. The pit looked smaller than the ones I've seen online.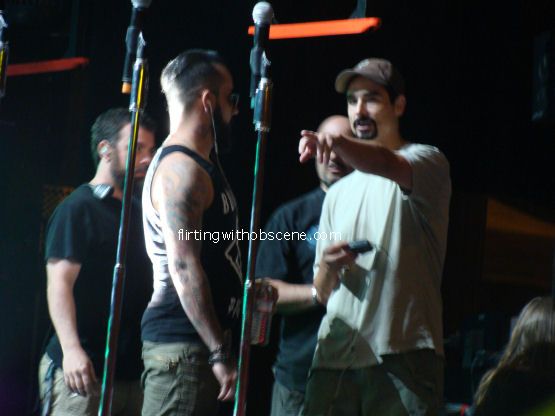 The first Backstreet Boy I see is AJ who is in the wings of stage left talking to some guys. Then Kevin appears. Nick is next. Then Howie and Brian come out. Once they're all present Nick walks onto the smaller part of the stage turns to his left, continues walking, and then he jumps off. He says he has a story to tell about what happened to him at this venue.
He goes into the first row of the seats and starts telling a story about how a few years ago he went to a Slipknot concert with his friends. He said he was wearing a hoodie and he was with his friend Shadrick and Drew's brother John. There was a girl with a ponytail whipping her ponytail around. The ponytail kept hitting Shadrick in the face. Nick said Shadrick picked up the girl and then put her down. The girl turned around to look at him and then disappeared into the crowd. A few minutes later the girl came back with 4 guys Nick referred to as "Skin Heads."
Nick said Shadrick and John and the 4 guys started brawling in the mosh pit. Nick said he was scared and he didn't want to end up dis-membered at a Slipknot concert so he left. (What a pussy lol) Then a few minutes later Shadrick and John came out panting. Nick asked them if they were okay and they both said, "That was awesome!" lol
Nick then goes back on stage. I'm impressed when he was able to lift himself up onto the stage. I wish I had that kind of upper body strength. While he did this AJ was looking at him and got a glimpse of his crack and made a remark about it.
Permanent Stain
Madeleine
Howie does his spiel of welcoming us all to the Backstreet Boys sound check party. The first song they sing is "Trust Me." The next song they sing is "Permanent Stain." They both do those 2 songs on the tip of the stage. Then they move further up stage and perform the chorus of "Safest Place To Hide," "10,000 Promises," "Madeleine," and "Quit Playing Games."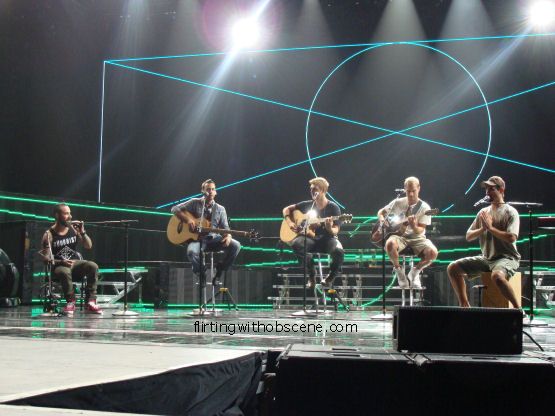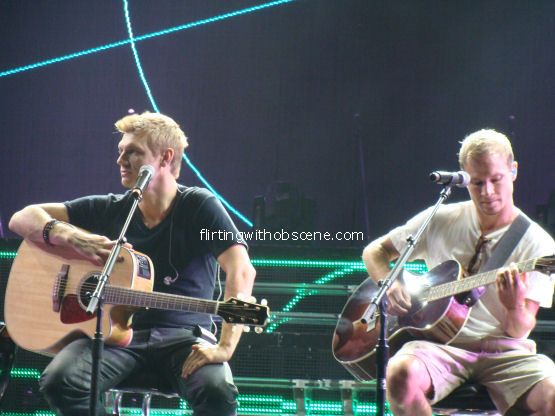 During the further up the stage part, Kevin talked about how at the Gibson is where they won their first VMA. They talked about the Ben Stiller and Andy Dick skit. Kevin couldn't remember Andy Dick's name so he said it's the guy who keeps getting arrested for being drunk. One of the others, I can't remember who said, there's a lot of those in LA/Hollywood lol I immediately knew it was Andy Dick but I was too shy to shout out the name. Another fan ended up shouting it to them.
During "Trust Me" I noticed Nick dropped his guitar pick near where I stood. I would have grabbed it but there was a barricade in the way. I was a woman on a mission to get that pick. I thought about asking the venue staff but none of them looked approachable. Then I thought about asking one of Bsb's bodyguards for help but they all looked busy. I almost gave up thinking it was too much effort for a pick.
Also,in between singing songs, I saw Nick raise his arms which resulted in his shirt going up. For a split second I saw the top of his pelvis with some of his pubic hair peeking over his pants. That really amused me that my eyes caught that. Either his pants were way too low or he has a high crotch. I wonder if he raised his arms higher if his junk would have popped out.
There was also a part where Nick's bracelets came loose so he was trying to fix the clapse. AJ came to him when he noticed he was having trouble with his bracelets. Instead of being a friend and offering to help him, he started saying how he needs to get him his (Skullee Rose) bracelets and that he needs to stop wearing "cheap stuff."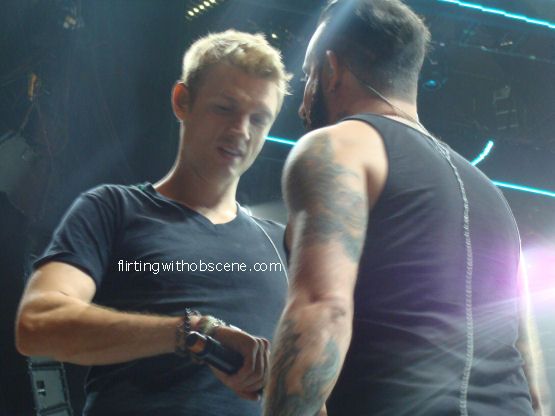 Nick just smiled and didn't say anything as he concentrated on fixing his bracelets. A fan offered to help but Nick didn't respond. He really wanted to fix it himself and he did eventually.
I didn't realize till much later that the bracelets Nick was fixing were the ones he tweeted about earlier that day:
https://twitter.com/nickcarter/status/375350388536254464
Speaking of Backstreet accessories, AJ was wearing a belt buckle that said "Cocky."
After they sing they answer some questions. One of the questions was what question would you like to ask fans? I think it's AJ that asked how do fans know where their hotels are before they do? That's something I'd like to know too lmao I'm not that clever enough to know that kind of info. One of the fans said it's because hotel staff is dumb and gives away the info when asked. Another fan said when calling ask if there's a block of rooms booked and if there is then most likely Backstreet is there.
Nick then asked us what the next single should be. They named every song on the album except "Make Believe." That's the song I wanted to vote for! Mostly everyone voted for "Show 'Em What You're Made Of" which Backstreet simply referred to as "Show 'Em." No one voted for "Permanent Stain" and Nick made the game show buzzer sound like when the answer is wrong.
Someone asked what their favorite song off "Millennium" is. Nick said he likes "Don't Wanna Lose You know" but recently he re-discovered "Back To Heart." Howie said, "No One Else Comes Close" and I forgot who but one of them said that song is by Joe and Howie seemed really surprised by that. I thought it was common knowledge Joe wrote and sang that song first.
Another question was something like what was their favorite performance/memory. Kevin said singing with Elton John. Nick said singing at the Super Bowl during his birthday. Brian said performing in Atlanta where he got a plaque about it. I forgot what AJ and Howie said.
There was probably another question but I forgot what it was. After the Q&A it was time to take pictures. The Bronze VIPs are kicked out, Silver's take their pictures, then the Gold's, and last were the Platinums.
My mind was still on that guitar pick as I waited to take my picture with Backstreet. I was excited though to finally get a chance to take a picture with all five Backstreet Boys WITHOUT a barricade. I don't know why it took Kevin coming back to get rid of that darn barricade.
Another thing on my mind while other fans were taking their pictures was I saw Kevin and Howie were in the middle. I was kind of disappointed because I wanted Nick somewhere in the middle so I can stand next to him and have my picture balanced. For the first couple of VIP pictures, Nick was on the end. I debated between showing favoritism and standing next to Nick or having my picture balanced so that I was in the middle even though Kevin and Howie would be next to me.
Then as if Backstreet Boys read my mind, somehow as the more VIP pictures were taken Nick drifted toward the middle and I sent him mental messages to stay there which he did.
When it was my turn, I go up to them and Brian is first. His face lights up and he says, "HEY!" I say, "Hi Brian." He gives me a hug and being the shy, quiet person I was about to move on to Kevin who was next to him when Brian catches me off guard and says, "It's good to see you! You look good!"
I'm all flustered at Brian's compliment. I took a step back and scanned his body with my eyes. I was totally checking him out. He was wearing shorts, a white t-shirt, and had sunglasses hanging from his shirt collar. I told him, "Thank you! You look good too!"
Brian said something like thanks for coming and it really is good to see you. At that moment Brian was my favorite Backstreet Boy. I move on to Kevin who hugs me, then Nick, AJ, and Howie is last. Howie said something like, "Thanks for coming Sweetheart." I was surprised I didn't get yelled at for hugs since the first couple of VIPs I saw the bodyguards enforcing handshakes only and told fans not to hug them.
I squeezed myself between Kevin and Nick. The picture is taken and it's over. When we break apart Kevin tells me, "Have fun babe." I was completely tongue tied from Brian saying I looked good, to Howie calling me Sweetheart, and then Kevin calling me babe.
I walked away to get my bag. A part of me was bummed I had almost no interaction with Nick during VIP but my mind was still on that darn guitar pick of his. I saw Bodyguard Drew standing on the steps. He's always been so nice and friendly to me so I figured why not ask him if he could get Nick's guitar pick for me. I set myself up for rejection but I had to try. He immediately recognized me. Then he told me that during the show when "Show Me The Meaning" starts to play to meet over at the double doors near stage left.
After he was done giving his instructions I asked him if he could do me a favor. He looked skeptical but he listened. I told him that during the sound check Nick dropped his guitar pick and I was wondering if someone could help me get it. Without hesitation he said that he'll get it for me. I asked if he needed me to come with him to show him where it was. He said no so I waited and watched as he made his way down to the stage. While waiting for Drew, Bodyguard Mike tried to get me to leave the venue because he thought I was lingering. I told him, "Drew's getting me something!" That shut him up lol
First Drew went into the pit which was wrong but I couldn't shout at him that he was in the wrong place. (While this is happening I was wondering if Backstreet was watching me and thinking what the hell is she still doing here? lol)
Then I start to play a game of charades with Drew. I tried to tell him with my hands that the pick wasn't in the pit but between the barricade and the stage. He finally understood my hand signals and wedged his body between the barricade and the stage. While he's doing this I feel so bad yet grateful he's taking the time to do this for me! He finally finds the pick and gives it to me. I thanked him for getting for me and like an awkward dork I asked him for a hug which he accepted. I thanked him again and then went on my merry way. Even though I didn't really get to talk to Nick during VIP I was glad to take something he used during VIP home with me.
On my way out one of the bodyguards who I later learned his name is Aaron gave me the autographed 8x10 picture VIPs get. When I make it out of the venue, Justin is there apologizing to us Platinums saying there's no green room for this show.
I also spot Rachel, the fan I stood next to during the sound check. We were both on the fence about doing the after party. We weren't sure to do the meet and greet or the non-meet and greet. We had read online those with non-meet and greet had a chance to be pulled on stage by either Howie or Kevin. We decided to try our chances with the non-meet and greet and hopefully be one of the lucky fans that get pulled on stage.
Rachel had a pit ticket so she went into the venue to secure a good spot. I still had to pick up my VIP Nation ticket. Now that I look back on it, I think it's super lame they made those with VIP Nation have to walk alllllll the way back outside just to pick up our tickets and merchandise.
As I walk to get my ticket, I hoped and prayed that the $250 I spent was well worth it. During my walk, I spotted my dad already in line to get into the venue. I told him to go ahead inside while I got my ticket. I bought a ticket for my dad in the front row of the orchestra. It was a ticket that appeared about two days before the show. I almost got him a seat in the nosebleeds but I thought if he's in the front he could get either pictures or video of me while I'm on a stage with Backstreet Boys.
I spotted the VIP Nation table where there's a girl sitting down and a guy standing up. The first thing I notice is a bunch of Backstreet Boys tote bags on the dirty ground! I thought with the high price we paid they would at least take care to put the bags in a box or at least have some sort of protection so that the bags don't get dirty from the ground. The bag they gave me wasn't from the ground but that doesn't mean it was on the ground previously. Upon inspection the bag was clean but it still put me off seeing all those other tote bags on the ground.
VIP Nation pic
Inside the tote bag was a t-shirt with Backstreet Boys' names on it, a commemorative ticket that had the date, and an envelope with my actual ticket inside. The downside of buying a VIP Nation ticket is the exact seating isn't known until the day of the show. It's to prevent scalping. When I saw where my ticket was, I was disappointed. I had 4th row in the 3rd orchestra. I was really hoping for at least the 1st row in the orchestra or pit. Oh, well. At least now I know not to take the risk with VIP Nation.
I go into the venue and find my seat. My view wasn't bad. I had a good elevated view of the entire stage. Of course I would've loved to be closer but I liked that I could see over heads. That helped dissolve some of my disappointment. Then I later discovered the two seats next to me were empty so I had room to move around.
I try to find my dad and I found him near the concession stands. I gave him instructions to film me while I'm stage with Backstreet Boys. I also told him to take a few pictures of Jesse McCartney if he could. It's about 7:30 PM and since Backstreet wouldn't be on stage until past 9 PM I bought some food. It was going to be a long night and I didn't want to risk having an empty stomach. If I don't eat I get a very painful headache. I bought chicken strips, fries, and a soda. It was very expensive. While eating, I almost lost Nick's guitar pic when it fell out of my bag. Thank goodness my dad saw it fall out. When that happened I made sure to secure it into the zipper compartment of my bag.
My dad and I then head into the venue to take our seats. A lady working at the venue saw my dad's ticket and told him he had a very good seat. We walked in right in the middle of DJ Pauly D's set. I think he had a good set. I liked it when he played some of "California Love."
After Pauly D was another long wait for Jesse McCartney. While waiting for Jesse to do his performance, there's some commotion. First, Kathy Griffin walked by my section. She was wearing a Backstreet Boys shirt. She's very short and tiny in person! She has be like a size 00.
Then a bigger commotion happened when Lance Bass from 'NSync took his seat. I saw him for a split second but so many fans mobbed him to take a picture. I thought it was ironic he'd be mobbed at a Backstreet Boys concert.
Jesse McCartney then took the stage. I love how he started off "Leavin'." His dance for "Body Language" was so adorable. I wish he sang more of his songs that I know like "Because You Live," "Oxygen," and "Into Ya." He had a good set though and for once I actually could enjoy an opening act.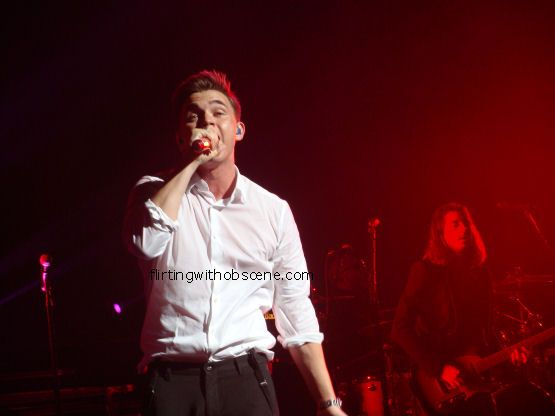 When Jesse is done it's another long wait for Backstreet Boys. The lights then dim down and screaming fills my ears. The moment I've been waiting months for was unfolding before my eyes. I finally got to see all five Backstreet Boys together for a complete concert.
The intro is an animation with their pictures set to the James Bond theme. Backstreet then comes on stage looking sharp in the suit jackets and slacks. They do a brief mash up of "Everybody" and "The Call." Then they lead into "The Call." After the "The Call" is "Don't Want You Back." I can tell they really like this song and are trying to make up for it not being a single due to Nick's TRL debacle.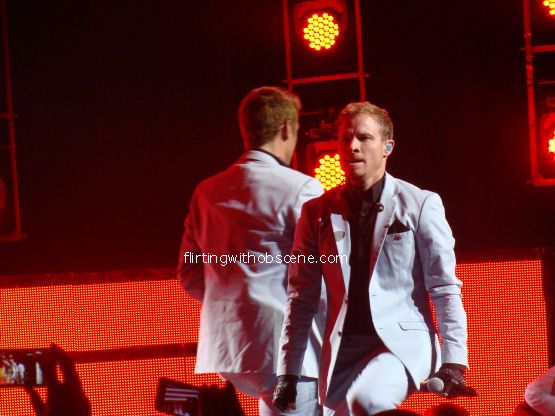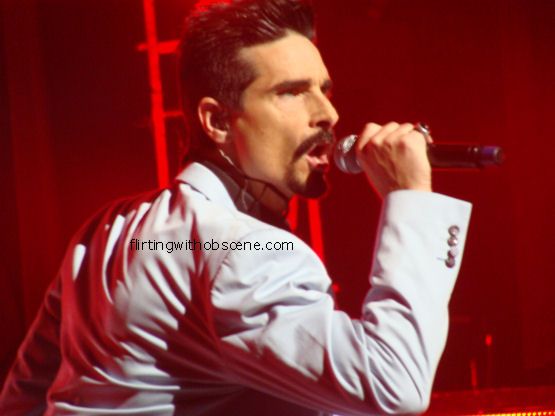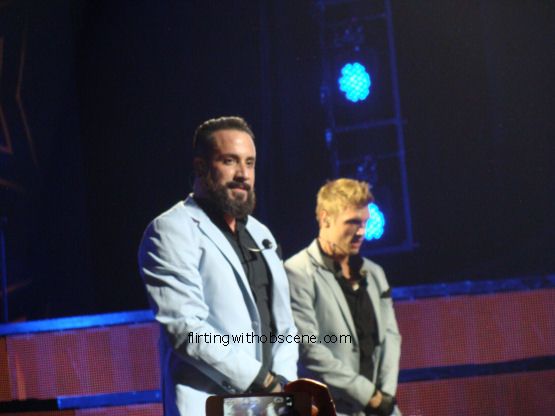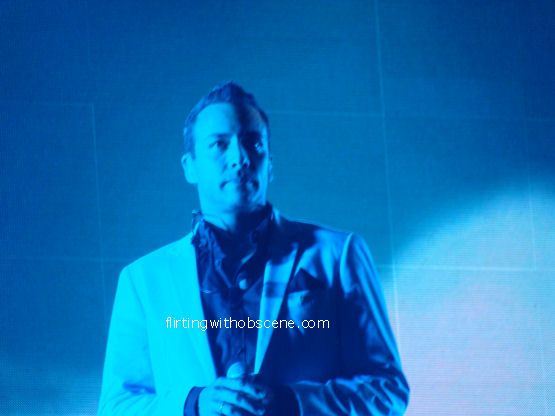 During "Permanent Stain" I swear Brian saw me in the audience and pointed and waved at me. That was one plus of having an orchestra seat versus being in the pit since my seat was elevated and I could see over heads.
As the concert goes on I'm anticipating "Show Me The Meaning Of Being Lonely." When they sing the first line, the fan next to me and another fan named Leslie who I've met at previous Backstreet events walk over to the meeting place. From reading past Platinum VIP experiences they all said if you want to sit on the bottom row you have to be at the end of the line.
I was paranoid I'd end up at the front of the line and on the side of the stage where my dad couldn't see me. When I got to the meeting place there was already a long line formed! I thought... how the hell did they all line up so fast?! lol It worked out for me, Rachel and Leslie because we ended up at the very back of line. There were 2 lines so we were the last in line 2.
We were then led into a staircase area where we had to sign a waiver. I had no idea what I signed but I probably signed my life away to Backstreet Boys.
Justin and Bodyguard Q were in charge of wrangling the lines. They explain that we can't take anything on stage. Then they tell us not to do anything on stage like stand, dance, and basically not to move at all. Then Justin says he doesn't have the poster for Platinums and that he'll have them mailed to us. While all of this explaning is going on, the concert is still happening. It was bittersweet to miss a good chunk of the concert. We missed "Show Me The Meaning of Being Lonely," "Breathe," "I'll Never Break Your Heart," and "We've Got It Goin' On."
The lines then move closer to the stage. Justin keeps a count of us to make sure no one tries to sneak on stage with us. Justin then counts me, Rachel, Leslie, and another girl (I have no idea what her name is) as the last 4 for the bottom row. He repeats the speil of not doing anything on stage and to have a good time.
We're then led on stage. I was so relieved to find that I was sitting on the side of the stage where my dad could see me and film me! Backstreet was currently on the tip of the stage talking about a sign a fan had made with an old picture of them. Nick said that Brian had Miley Cyrus' hair before she had it. Then Brian said no he was trying to be Vanilla Ice.
Then they turn around and acknowledge the Platinum VIPs sitting on stage. I loved getting to see the show from their perspective. I saw a lot of familiar faces in the audience. I also got reassurance that they could see me from my seat in the audience.
They come approach the Platinums. Nick comes by and shakes my hand. Brian spots me and holds both his palms out. We sort of did a two-palm slide handshake. They were the only two to approach our side. Then they all sat down. I had a good view of Brian and Nick. They were dripping with sweat. They're probably used to sweating but I can't imagine having to be soaked in sweat during a concert. My eyes were mainly on Nick the whole time. I kept staring at his tattoos. I also loved the way the sweat made his hair rest on his head.
Even though Backstreet Boys were sweaty they didn't smell bad! They actually smelled good. I thought, it's probably pheromones that's making me think they smell good. To warm up they started with the chorus of "Safest Place To Hide." Then they sang "10,000 Promises," "Madeliene," and "Quit Playin' Games." I was so in awe of being on stage that I didn't really catch the banter between the boys. I know there were some dirty wood jokes somewhere. Then I remember Howie saying they couldn't dance forever so that is why they were doing an acoustic set.
10,000 Promises
I would have loved more interaction but it was nice to experience a show from their eyes. After "Quit Playin' Games" the lights dim and the boys rush off stage to prep for the next batch of songs. In the back a video played while we waited for guidance to get off stage. Justin comes to my section and we're then led off stage.
I go back to my seat and watch the rest of the show. This was the first concert I watched without my camera since I gave it to my dad to film me while I was on stage. I usually go crazy with my camera and take a lot of pictures and videos. It was actually nice having my eyes on them versus my camera screen.
After the concert is over, I rest for a bit on the couch near the concession area. My feet are throbbing which happens at every Backstreet Boys event I go to. My dad told me that during the concert he flashed a peace sign to Kevin and Kevin flashed it back to him. That was the highlight for him.
Then my dad and I head to the Hard Rock for the After Party. My dad didn't want to go back to the hotel by himself so he waited outside the Hard Rock while I was inside.
The line was already long to get inside. I got into the non-meet and greet line and found a fan named Dina. I met her in 2012 during Nick's Vegas birthday event. We both enter the Hard Rock. I then found Rachel and we wait for Nick, Howie, and Kevin to appear. I was very thirsty and I noticed Rachel bought a drink. I asked her what she was drinking and she said a Jack and Coke. I'm not really a drinker but I wanted to try it so I ordered one too. I discovered I'm not a Jack and Coke girl lol
While we waited I saw off to the side some of Ground Control's staff start to congregate in a table area near the stage. Then I saw Angel, her fiance, then Lauren, and Leigh. For about a minute Lauren sat down at the table next to where I was standing. I was anticipating the crowd to spot her and shout her name. No one did.
It seemed there was something delaying Nick, Howie, and Kevin from doing the meet and greet pictures so Ground Control sent those with meet and greet down to the stage area for the party first and then they would take the pictures after the party.
Kevin, Howie, and Nick then take the stage. Nick was the DJ while Kevin and Howie hyped up the crowd. They also pulled some fans on stage. I didn't make it on stage. The crowd was kind of pushy since everyone was eager to get up on stage.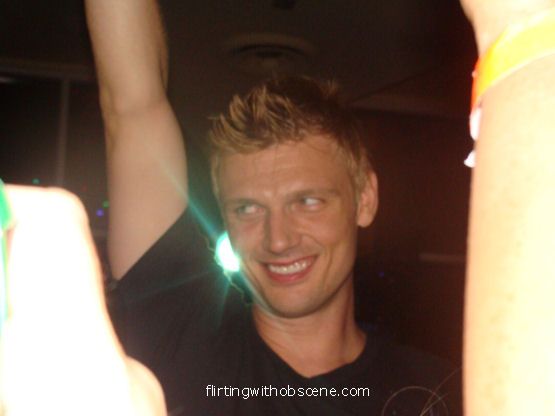 I really liked that Nick played Faith Evans' song "Love Like This." That song has a special place in my heart because I titled my first ever Nick Carter fan fiction story after the lyrics to that song way back in 1999. It was the first story I ever wrote for Berry *Delicious* Nick Carter Stories.
Some songs I remember him playing were Black Eye Peas' "I Gotta Feeling," Human League's "Don't You Want Me," "Blurred Lines," and Icona Pop's "I Love It." I had to disagree with Nick when he said that Icona Pop is better than the Spice Girls. The party ended with Nick, Howie, and Kevin singing along to Journey's "Don't Stop Believin'."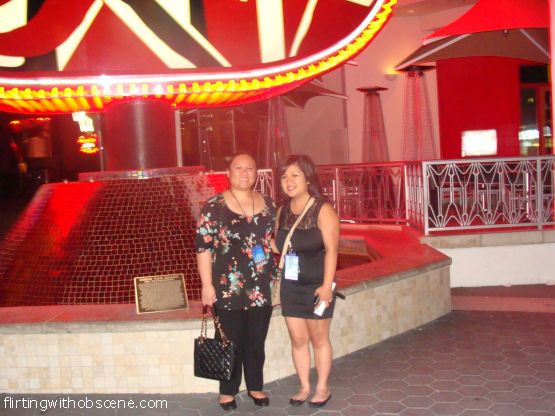 Rachel and I say our goodbyes. I meet up with my dad and then we walk back to the hotel. I'm so glad I booked the Hilton Universal because the walk from City Walk to the Hilton was not long. It was probably 10 minutes and there was a pedestrian bridge that made the walk easier. There was one moment when my dad and I got freaked out when all of a sudden out of the darkness a man walking toward us appeared. I don't know where he came from or if he was even real. *cue Twilight Zone music* Thankfully we make it back to the hotel room safely. It was about 2 AM when I got sit down on the comfortable bed.
I was still amped up from seeing Backstreet live. It was hard to sleep and I was hungry. I was too tired to drive to find food so thankfully I had some left over Orange Chicken from Panda Express to eat. Then eventually I fell asleep at around 4 AM.
Hollywood/Beverly Hills/Irvine
It was close to 8 AM when I woke up. I wanted to sleep some more but my body wouldn't let me. I was still full of energy from seeing Backstreet. Since Backstreet was traveling to Phoenix for their show there, I had a free day to spend in LA before heading to Irvine.
After my dad and I checked out of the hotel we drove down to Hollywood Blvd. to have both breakfast/lunch and see the Backstreet Boys star. I parked at the Highland Parking garage next to the Loews Hotel where I stayed for the Hollywood Star ceremony. I felt comfortable parking there since it cost $8 and the outside lots usually charge $20 and it's not secure.
I was craving wings so we ate at Buffalo Wild Wings. It turns out on Thursdays they have a $0.65 wing special which we took advantage of. We also ordered fries. While eating there, I had the same waitress I had from eating there during the Hollywood star. Also, the restaurant played "Straight Through My Heart." It's like they knew a Backstreet Boys fan was there! I remember in April after the star ceremony they played it too so I liked that they haven't taken them out of their playlist since then.
Once we were full of wings, we walked over to the star where I took some pictures with the star.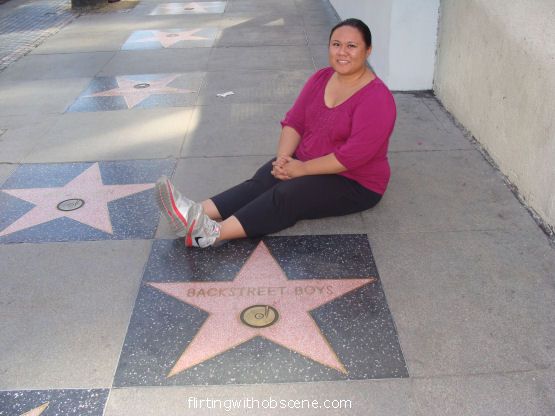 Then my dad and I sight-see for a bit. Then we drive over to Beverly Hills because I need my Sprinkles Ice Cream fix. I had a hard time deciding what to get so I ended up getting a Captain Crunch Ice Cream Shake with a Red Velvet cupcake mixed in. It was good but I don't' think I'll order it again. The shake didn't stay cold and it was a very hot day so I wanted something to cool me down. My dad got a scoop of peanut butter/chocolate chip ice cream.
We then walk a few blocks along Rodeo Drive. It seemed more active than the last time I went in April. After walking by the stores we head back to my car and begin the journey to Irvine. It was about 5 PM so there was a lot of rush hour traffic mixed in with tourists like me on the road. I had printed directions from Beverly Hills to Irvine. However, I took a wrong turn. That wrong turn added 1 hour to our commute to Irvine.
I eventually find my bearings and find the freeway I need which is Highway 101 which led me to the 5. The 5 was filled with traffic. It was about 9 PM when my dad and I made it to the Hilton Garden Inn in Foothill Ranch. The hotel was about 15 minutes away from the venue in Irvine. The reason it was kind of far is because I booked it on Hotwire which is more about the price than the location. I got 2 nights there for $167.68 through Hotwire.
Check-in was kind of long because there was a family in front of me. Once I was checked-in, I wanted to find a place to have dinner. The hotel was near a shopping center so we ate at In 'N Out there. After we ate I wanted to check out the venue so I had my dad drive past the venue.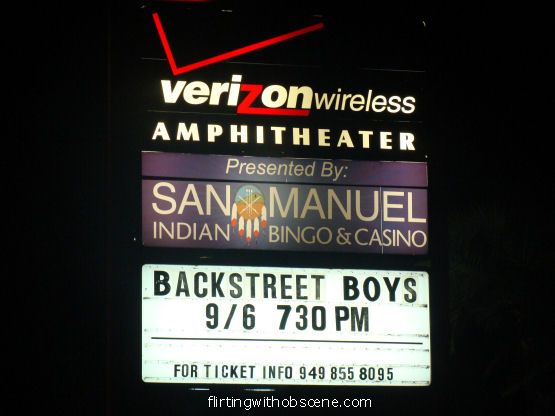 We had some minor drama driving there because I told my dad to pass the venue but instead he pulled into the line to exit to the venue. It was dark so we couldn't really see how to turn around. My dad decided to back my car up which resulted him backing up and over a cement bump that wasn't smooth. That freaked me out! I started to panic and thought I had a flat tire. He then tried to back out again and he hit another cement bump that created a very scary screeching noise. I told my dad to stop and that I would get out of the car to examine the damage.
Thankfully they was no visible damage and my tires were okay. I then guided him in backing out of where the car was without hitting anymore cement bumps. After that we were both shaken since those cement bumps really made it sound like my car was getting destroyed. Thank goodness my car is a tough cookie and she didn't let me down and have me stranded right in front of the venue.
We go back to the hotel and I start to prepare my outfit and my purse for the show. At about midnight I fall asleep.
Irvine
I could sense the bright sunshine from behind the curtains when I woke up the next morning. I wasn't looking forward to sweating since it was an outdoor venue. My dad and I decided to have breakfast/lunch at a local Chinese food place called Pick Up Stix in the shopping center near the hotel. I got orange chicken and fried rice. My dad got Mongolian beef and steamed rice. I thought the food was good until after I finished eating I noticed there was an army of ants marching up and down the window next to the table we were sitting at.
After we ate, we went back to the hotel and I got ready for VIP and the show. I only had Jesse McCartney VIP. I thought about impulse buying a Backstreet Boys Gold VIP but I had to see if anything was for sale.
My dad dropped me off at the venue for VIP and then he went to explore a shopping center across the street before coming back. I bought him a ticket to the show but in the last row of the terrace.
There were already a ton of people standing in front of the box office. The amount of VIPs for both Backstreet Boys and Jesse McCartney was easily triple the size in Universal City. It was very hot so the venue staff was nice enough to hand out bottled water to everyone. I didn't drink much of mine because I was paranoid about having to go to the bathroom during VIP.
The heat made waiting feel extra long. Plus everyone was mixed. There was no clear designation between Backstreet VIPs and Jesse McCartney VIPs.
While waiting for VIP I found some fans I know both from online and previous Backstreet events. I saw Courtney and her friends. I met Katrina from Oregon who was my companion in the pit. I met Lynn who flew from Germany with her friend. I met Laura who's from the east coast. I caught up with the twins Kathy and Kristy. There are many more and you know who you are!
Eventually the Ground Control staff shows up and sets up tables near some trees. Before we checked in an announcement is made that those with pit tickets can get their wristbands. I got my wristband and I was so amused it was of monkey's and bananas. I thought did AJ pick this wristband?
Then I checked in for my Jesse VIP and Katrina checked in for her Backstreet Boys VIP. Katrina wanted to go to Jesse's VIP too and I wanted to go to Backstreet Boys' VIP too. Katrina wasn't able to buy a Jesse VIP. I asked photographer Justin if I could buy a Backstreet Boys Gold and he said no since there's too many people. I asked him if I could buy a Silver and he turned me down for that too. Oh, well, at least I tried and I had a great time at the Universal City VIP plus I still had Platinum for the Concord show.
After checking in we migrate to another line to go through security bag check. The line is mixed and it irked me that there wasn't one line for Backstreet VIPs and one line for Jesse VIPs. In Universal City there were two different lines so I didn't understand why that couldn't have been done for Irvine.
While waiting in line I heard one of the Ground Control guys named Nick yell out "JESSE MCCARTNEY VIPs!" I was still toward the back of the mixed line so just to be safe I made a beeline toward the front and let the people at the front of the line know that I have Jesse's VIP. Thankfully no one bitched and they let me through so I could go to the Jesse line that was already formed after the bag check.
Once all the Jesse VIPs are gathered, Ground Control Nick then leads us to where VIP with Jesse would happen. The walk from the bag check place to the VIP was so long! It didn't help that the blistering sun was beaming down on us. It was definitely a cardio work out.
Before we could do the meet and greet with Jesse, those who had Ultimate VIP got to see him do a brief acoustic perfomance. I didn't bother to get Ultimate because I was already spending so much on Backstreet. While the Ultimates are watching him perform, I decide to sit down at a table nearby. I wanted to enjoy sitting as much as possible since for the show I had General Admission Pit where I'd be standing the whole time.
While I sat, I could faintly hear Jesse singing. I couldn't make out what he was singing though. I could also see him.
Also while I sat I noticed a beautiful black and yellow butterfly come near me. It was one of the biggest butterflies I've ever seen. It flew in front of me for like a minute. My mother is very superstitious and I knew she would think that butterfly was a spirit. In my mind I said "hello" to the butterfly.
After Jesse is done with his acoustic set, Ground Control Nick then has us form a line to take a picture with Jesse. I'm toward the end of the line so it's more waiting. I honestly kind of felt old since I could tell a majority of the fans there to meet Jesse looked to be in their late teens, early 20's.
Ground Control Eddie was the one taking pictures for the meet and greet. In the middle of taking pictures something happens to his camera. He looks like he tries to fix it but he can't. He radios someone for help and waits for about a minute. Then he decides to move on and starts taking the pictures on his cell phone.
That really disappointed me because I did not want a picture I paid $75 for to be taken on a cell phone. I was going to have Eddie take the picture on my camera. However, a few minutes later someone comes by and gives Eddie a new camera battery to put into his camera. I was relieved that by the time it was my turn to take the picture that I could get it on a professional camera.
When it was my turn I say hi to Jesse and give him a hug. Then we take the picture. I'm always at a loss for words when I'm around a hot guy so the best thing I could say to Jesse was, "Thank you for touring with Backstreet Boys."
As I said that, I clapped my hands together and I was so amused when Jesse did the same thing too lol I don't even remember exactly what he said back to me. I think he said, "You're welcome."
Part of Jesse's VIP was to get a poster, keychain, and a sample of his perfume. Unfortuantely, like the case with my Backstreet Boys Universal City VIP, the stuff wasn't there. Someone from Ground Control, I think his name is Drew said it'll all be mailed to us.
Once it's over I took a seat at a bench near the shade. Backstreet Boys VIP hasn't started yet so I had a while to wait until I could go into the venue. As I sat on the bench I saw the line of Backstreet Boys VIPs pass by to go into the venue for sound check. I was a bit bummed I couldn't go but my credit card was happy.
Since I wasn't sure when I'd have the opportunity to eat, I left the bench and browsed around for something to eat. I wasn't in the mood for chicken strips, fries, or hot dogs. I decided to get a churro that cost around $5. Yes, it was very expensive but it was very good. I also paid for a soda that was about $5 too. Those venue concession stands really know how to dig into wallets.
Once I got my churro and soda I sat down at a table by myself until these group of teenagers who were working for Citi credit cards decided to keep me company and sit at the table with me lol I could hear sound check going on so I felt like I had VIP anyway.
My plan was after they were done with the Q&A part of the sound check that I'd go to the bathroom and then linger around the venue entrance so I could get a prime spot in the pit. Once I heard Justin announce the pictures were being taken, I go to the bathroom.
Then on my way down to the pit and one of the fans I met in April during the Backstreet Boys 20th anniversary event notices me and says "hi." She asked if I remembered her and I did since her, her friend, and I were the only 3 to see Kevin entering through the back of the venue that day. I chat with her and another fan who was with her for a bit.
I then continue my way down to the pit. It's nearly full already since those who had Backstreet VIP went in after taking their picture. I couldn't see my pit companion Katrina so I decided to enter the pit on stage left. Then I change my mind and start to walk around to the next pit.
As I walked to the other side that's when I spotted Katrina. She had saved a spot for me on the tip of the pit. The spot she got was good and I'm very grateful she saved the spot for me. There was no barrier between me and the stage. I could actually touch the stage.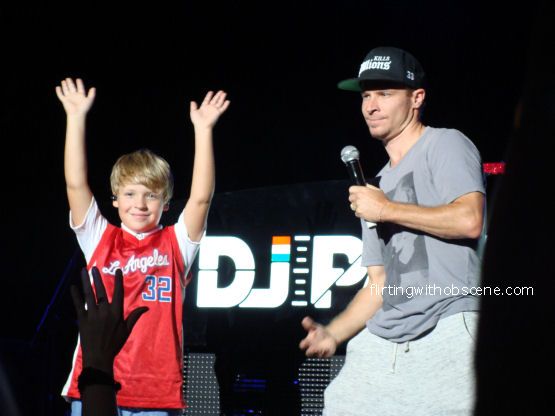 Brian then came on stage to introduce Baylee who sang two songs. I had missed Brian and Baylee in Universal City so I was interested to see him perform. One of the songs was "Fantasy" by Mariah Carey which was so amusing. On stage left Brian, Leighanne, and Mason were watching Baylee perform. Leighanne was filming her son on her phone. Brian was so into the perfomance. He was clapping and looked extremely proud of his son.
Baylee made sure to walk around the stage and touch the hands of fans that reached out to him. I'm glad the fans were respectful and didn't try to grab him.
Baylee is so lucky he has a father that can give him the proper foundation to become a successful singer. My prediction is Baylee will either become a country singer or Christian singer. I thought he was adorable and seemed at ease on stage. I wish I had his fearlessness at his age.
After Baylee it's more waiting. A fan who was to my right said I look familiar from the fan club. I told her that I'm BedtimeDelicious on the fan club and she tells me her name is Ashley.
Then DJ Pauly D came on stage. He was wearing one of the new "In A World Like This" tour t-shirts. He played most of the same songs he did in Universal City. While he was spinning music, I wanted to drink some water. I took out the water bottle I got earlier and took a sip. I set the bottle on stage and a few seconds later the bottle drops off the stage from the heavy bass of the music. The bottle proceeds to roll underneath the stage! I tried to find it but it was too dark. If I had known I was going to lose the bottle I would have drank more water.
When DJ Pauly D is done, I go to pick up my After Party pass. I had the meet and greet pass. After I got my pass and wristband, I stand in a long bathroom line. Unfortunately because of this I missed the beginning of Jesse McCartney's set. I would have loved to see "Leavin'" again.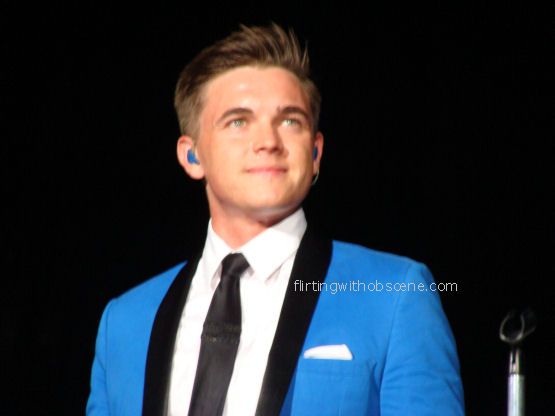 I make it down to the pit and enjoy the rest of Jesse's performance. I love his dance to "Body Language."
Toward the middle of Jesse's set I heard my name. I turned around and saw Whitney and Jessica. In 2008, during the Unbreakable tour we went to the show at the Hollywood Palladium together. Plus Whitney and I went to some events together in the past like Backstreet on Kimmel in 2005, Leslie Carter's Cat club perfomance in 2006, and Brian's Saddleback Church event in 2006.
We chat and catch up for a bit. Whitney mentions that most of her and Jessica's high school classmates are there with their husbands. Jessica shares some of her big cup of vodka/sprite with me and Katrina. Then Jessica dubbed me her "Bsb Guru." lol
After Jesse it's another waiting game. Then Backstreet Boys come on and the screaming sounds louder than in Universal City. During "Don't Want You Back" I noticed Kevin's pants ripped. He's such a professional though and kept dancing like nothing happened. There were a few times he reached behind him to check to see if his butt was hanging out. A few songs later he acknowledged that his pants ripped. I didn't think he would mention it.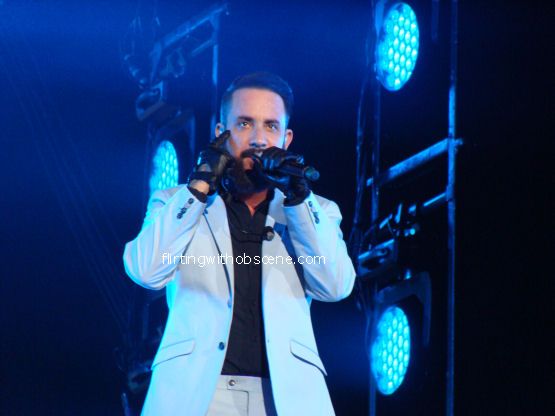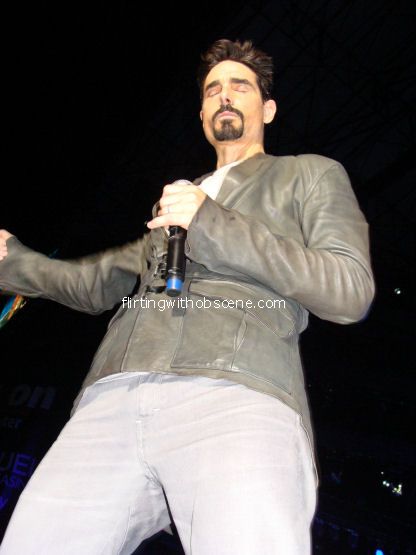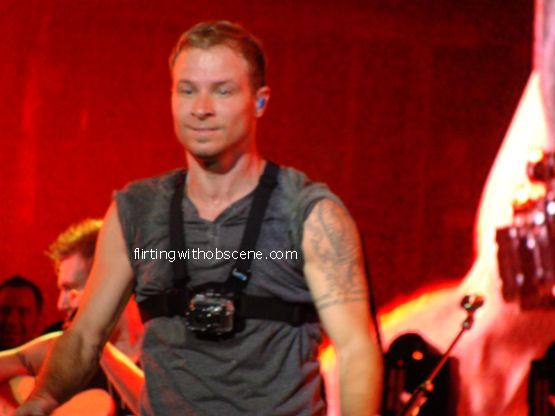 After Backstreet did their second wardrobe change, I noticed Brian had what looked like a camera strapped to his body. Backstreet mentions that the concert is being filmed to potentially be in the Backstreet Boys film.
Being in the pit was incredible. There was no barricade between the stage so I could reach my hand out and touch Backstreet if they let their hands out. I loved hearing the stomping of their feet and they danced.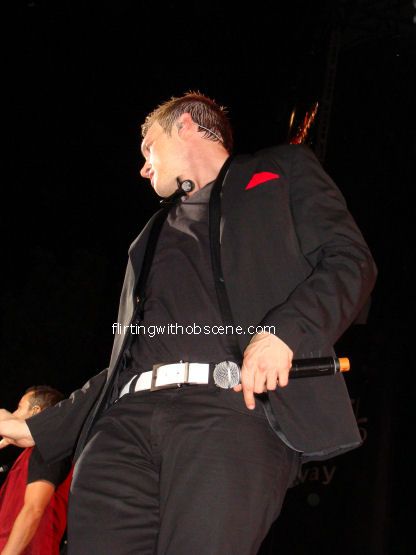 Another thing I loved was the nice view of their crotches I got :p
I think "Breathe" should be mine and Brian's song. During it he was touching fans hands. When he touched mine, he looked right at me, gave me a huge grin, and pointed right at me.
It also amused me so much that during "Breathe" Nick was dancing like the song was fast and he was at the club. It's a serious, somber sort of song but the way he danced to it made it seem like the song was a happy and upbeat song.
Breathe:
During the acoustic set (10,000 Promises, Madeliene, & Quit Playin' Games), Nick's painter friend named Wyland was on stage. There was a painting of 2 whales in the ocean which he continued to paint on while Backstreet performed. I was under the impression he would paint something from scratch and not continue on something that was nearly finished. It was underwhelming since the painting was 99% done and all Nick's painter friend did was add a few strokes of new paint to it. I saw the painting listed on eBay for about $27,000! I love Backstreet but geez, that's so much for a painting. I could buy a car with that money.
There's a part during the concert where Backstreet asks everyone to hold up their cell phones with either the screen or flashlight on to imitate the effect of holding up lighters. I refused to hold my phone up because the battery was on its death bed. Five seconds after thinking that Nick says that some don't want to do that because they're saving their battery for when they go to the club later. It's like Nick read my mind :p
Throughout the whole concert behind us is Mark and Tom who are AJ's friends. During "In A World Like This" AJ sang to them which I thought was sweet.
The rest of the concert goes at a good pace. I liked seeing the 4 songs I missed in Universal City since I had to go on stage during Platinum. (Show Me The Meaning of Being Lonely, Breathe, I'll Never Break Your Heart, and We've Got It Goin'.)
When the show is over Katrina and I look for the After Party line. Thankfully it wasn't too far from the venue's entrance. There was already a huge line formed. While waiting in line I saw Arianna and Leslie walk by. I asked if they were going to the After Party. Arianna said she couldn't since she was driving to the Vegas show the next day. Leslie said she was going the party. I asked Leslie if she needed a group for the meet and greet picture and she said yes. So far in the picture it was me, Katrina, and Leslie. The e-mail said we needed 5. I wanted to stand next to Nick, Katrina wanted to stand next to Howie, and Leslie said she would stand next to Kevin.
The line started moving to inside the venue to take the meet and greet picture. While walking inside I heard some girls talking outloud. I didn't know who they were but what they said was so rude. One of the girls say something like, "I hope there's no one fat in our picture. I don't want anyone fat in the picture." That really irked me and kind of put me in a sour mood. I wasn't sure if they were referring to me but still it's rude to even say that so loud that everyone can hear. It's sad that some fans are so vain.
As the line gets closer to where they picture is being taken, we tried to see who else could be in our group. Leslie asked 2 girls behind us who they wanted to stand next to in the picture. They both said AJ. Unfortunately AJ doesn't go to the After Parties which I'm sure is in part to the alcohol that is served. Leslie told them AJ wasn't there and asked them for their second choice. They both said Nick. My heart sank and my lips kind of did the McKayla Mulroney not impressed face. That just added to my sour mood.
I really wanted to stand next to Nick but I told myself I already have a lot of pictures with Nick so I can let this one time go. So I decided to go with Kevin since he was my second choice. Once I saw what Nick was wearing I got even more sour. He looked so delicious in his Red Hot Chili Peppers tank top and I was disappointed I couldn't stand next to him.
When we're close, the two girls in front of us didn't have a group of 5. Bodyguard Keith let them go with just the 2 of them. When it was our turn, there was a delay since we were still unclear of who to stand next to. Nick seemed impatient so he started to started to wave at us to come over. He was like "come on!" and he was very eager to get the picture taken.
I said, "Hi Nick!"
Nick flashes me a bright smile and immediately puts his arm around me. He says something that catches me by surprise. "You're going to stand next to be baby."
My eyes widened in surprise when he called me "baby" and said that I was going to stand next to him. Initally, I wasn't feeling so good when I thought I wouldn't stand next to him and in a matter of seconds he made me feel good by a few simple words.
I was like "Okay, yes!" I wasn't going to refuse him and say, "No, actually I'm going to stand next Kevin tonight. Sorry." Plus he had his arm firmly around me already and I couldn't escape. I didn't even get to say anything to Howie and Kevin.
For a split second, I expected the 2 fans who said they wanted to stand next to Nick to start yelling and cursing at me for standing next to Nick. Thankfully they didn't.
There I was, next to Nick on his right with his arm firmly around me. He then said to move in closer to him, which I did. Then he said, more and I did my best to squeeze up against him. That wasn't enough and he said, "Tighter!"
I thought, "How close do you want me to get to you?!" Seriously, if he wanted any closer I would have gladly got on top of him :p
Then he looked down at our feet and asked me to move my feet toward him. I moved it and he was like, "No move it more." I moved my feet and he was like, "No move it there." I don't know if he was playing a game with me to see if I would obey what he says and if he just wanted to see me shuffle my feet back and forth lol
In all the pictures I've taken with Nick, this one definitely felt the most snug. My left side is all pressed up against his right side. His arm is firmly wrapped around me tight. I enjoyed every second of being so close to him.
After the picture is taken, we break apart. Before I could even think, the words, "Oh my God" escape my lips. I wasn't even aware Nick still had his attention on me. (Which now that I think about it, fluffs my ego because he could have easily turned the other way and paid attention to the fan on his other side.)
Nick smirked me at flirtatiously and said in a suggestive tone, "You liked that huh?"
That's when it hit me that I still held his attention. He caught me off guard so before I could think of a clever comeback I told him, "Yes." (You would think that since I own a website called "Flirting With Obscene" that I would know how to flirt back but I don't lol)
Then I told him that we still need to Skype and in a flash I lose him. I don't think he heard what I said and he just nodded his head. I then say bye and leave so that the next group can take their picture.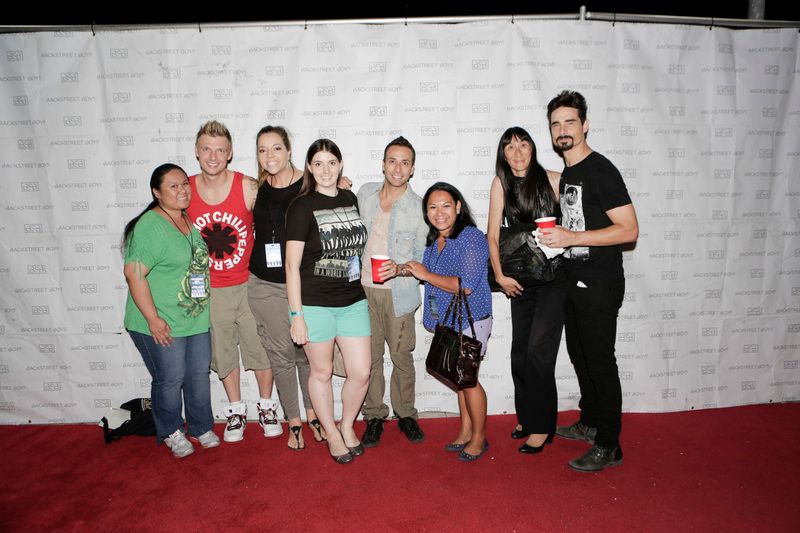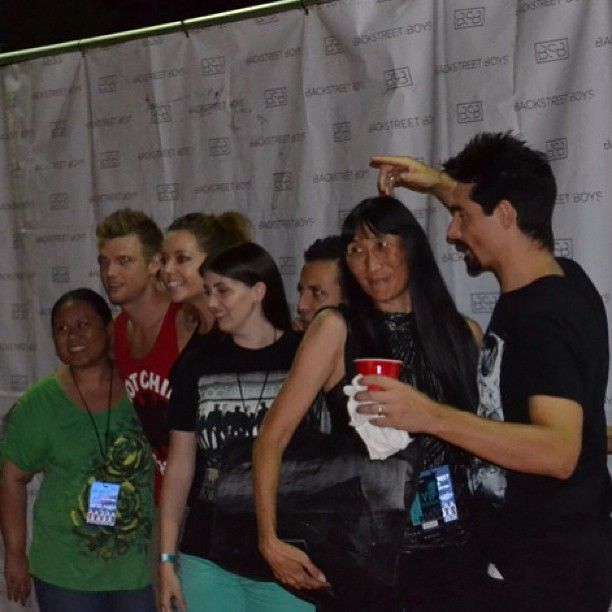 Later on, the fan I met earlier named Ashley, messaged me on the fan club and told me that during the After Party she snapped a candid pic of me with my group during the After Party.
I'm so thankful she was able to catch another perspective of that moment.
After that I was full of energy from what just happened with Nick. I went from being sour to super happy. Katrina and I go to the stage where there's already a large group of fans waiting. We settle on a spot near stage right. Off to the side I see Jesse McCartney and his entourage. I liked that Jesse came to the party and that he didn't draw any attention to himself. He enjoyed the music and dance a bit with his entourage.
It turns out the place where we stood was close to where Backstreet would enter. Eddie and some staff put up some barricades to prevent fans from mobbing Nick, Kevin, and Howie as they walked to the stage.
The dynamic was different in Irvine. There was definitely more energy. Once Backstreet hit the stage, the crowd pumps up and the wooden floor beneath us begins to shake. I admit, my life flashed before me because the floor was definitely not stable. It didn't help there was a sign off to the side that said the maximum occupancy was 60 and there was clearly more than 60 people there.
Nick was so much more pumped up and excited in Irvine than Universal City. I also loved the banter between the 3 of them as they joked about being in Orange County aka "The OC." Kevin even made a remark about Nick's energy saying that was Nick sober.
The subject of Nick getting arrested came up while they talked about being in the OC. Nick said, "Don't drink and drive."
Howie couldn't resist adding, "At least not with Paris Hilton." Oh, Howie lol
Nick plays LMFAO's "Shots" songs. I loved it when during the part of the song that goes "The ladies love us when we pour shots. They need an excuse to suck our cocks" Nick acted like he was getting his cock sucked. He put both his hands behind his head and looked down. I guess it's safe to say that Nick isn't a hair puller when it comes to oral sex.
There were so much more people at the Irvine After Party than Universal City. I didn't make it on stage but I was okay with that since I had an amazing experience with Nick earlier.
The party lasts for what feels like 30 minutes until the boys announce it's time to go. Once again they end with Journey's "Don't Stop Believin'." Nick leaves first. Kevin and Howie stay to take pictures with fans. There were too many people crowding them so I didn't want to bother. Although, if I really put effort, I could have gotten a picture with Howie. However, I was very tired and ready for some rest at the hotel.
Katrina, Leslie, and I then begin the long journey to the parking lot. The walk feels like a 100 miles with my throbbing feet. Whoever built the venue didn't put much thought into making an easier path for concert viewers.
Once we make it to the parking lot I spot my dad waiting for me at the box office. (Yes I have the best dad ever who's very patient.) I invited Katrina to stay with us at the hotel but she declined since she has a friend in Irvine she could stay with. She said that her friend could pick her up at the hotel.
On the way back to the hotel, I wanted to get something to eat. The last thing I ate was that very expensive churro. There wasn't much open but we found a Del Taco with a 24 hour drive-thru. I order my usual #11 which consists of a burrito, taco, fries, and a drink.
Katrina and I then say our goodbyes at the hotel and then my dad and I head to the hotel room. Even though I was hungry I couldn't finish the food from Del Taco. I managed to eat the taco, fries, and half the burrito.
My time in Southern California was coming to end. I had such an amazing time during the 2 shows and there was still 1 more show to attend in Concord.
It was hard to fall asleep but I managed to get about 4 hours of sleep. I was very tired when I woke up the next morning. It was bittersweet to be going home. Before my dad and I began the journey home, I told him I wanted to go to Newport Beach to go to Sprinkles Ice Cream and also the Fashion Island Mall.
Part of the reason I wanted to go to the mall was to see if I could buy a different top for the Concord Show. I had a top but I wasn't sure if I wanted to wear it. I went to Macy's but I didn't find anything. Since my dad and I had to drive back home we didn't stay too long at the mall. We ate breakfast/lunch at Panda Express in the food court. Then we to Sprinkles Ice Cream. It's smaller than the one in Beverly Hills. There was already a line formed out the door.
I decided to get a scoop of red velvet ice cream with a red velvet waffle cone. My dad gets rocky road with a regular waffle cone. The red velvet ice cream is sooooo good. Plus it was a really hot day so it was really refreshing to eat.
It was time to drive back to NorCal once the ice cream was gone. I was still tired so I made my dad drive. We stopped 3 times on the way back. The first was to get gas and I was thirsty so we got Starbucks. I got a passion tea and my dad got a caramel frap. The 2nd time was a few hours later. It was night time already and my dad said he was having trouble seeing the road so we stopped at a gas station, put some more gas into the car, and then I switched with him and drove the rest of the way home.
The third time we stopped was at Sonic in Gilroy. Stopping at Sonic seems to be a tradition now whenever we come home from a road trip. I got a coney hot dog which honestly didn't taste good. The hot dog bun tasted stale. The tater tots were very good though. I also got my slush fix.
An hour later we were back home. When I got to my room I saw a box outside my room. I immediately knew that was my iPad that I won from Cash4books. I opened the box and showed the iPad box to my parents. I still can't believe I won it and I look forward to using it. The model I got is a 16 GB with wifi. I looked it up online and it costs about $500. I was so glad I got it for free! I didn't fully open the iPad because I wanted to wait to order a case first. I'm the kind of person that doesn't want any finger prints or scratches directly on a device.
I then do a little preparation for Concord. I make sure I have my tickets, camera, batteries all ready and set in my bag. Then I take a much needed sleep.
Concord
I woke up past 10 AM on Sunday. The sun was shining bright outside and I knew it was going to be a very hot day. The venue in Concord is an outdoor amphitheater so I braced myself for another day of sweating like in Irvine. It also didn't help that for that show I had to wear black since I had Platinum VIP. I thought about stopping by the Sun Valley mall in Concord to do very last minute shopping for a different top. However, I procrastinated and there was no time to drop by before VIP.
It was about 2:30 PM when I left my house to drive to Concord. I was concerned I would be late for check-in since the e-mail said it was at 3:15 PM and Google Maps said it would take an hour from my house to Concord. Thankfully I made it to the venue in about 45 minutes.
Once I enter to go into the parking lot I notice a line of about 5 cars parked and there was a car blocking them from entering the venue. I start to panic because I need to go to VIP and I didn't want to miss it because the parking attendants weren't letting people inside. I thought about backing up and leaving to try entering at a different place but I couldn't.
Then I saw the car behind me back up and go into the right lane and talk to the parking attendant. The attendant lets the car through. I decide to follow that car and tell the attendant I have VIP. He lets me through. It irked me that none of the parking attendants bothered to tell any approaching cars that if anyone had VIP they could go right in. I think they should have actively made announcements or at least put a sign saying those with VIP to drive up.
Once I drive in, another parking attendant then directs me to park in a space between 2 cars. The space is tight but after a few adjustments I fit my car in. Then I walk to the box office and look for my friend Sam who's my concert buddy for the night. She said she was already in line. I find her and then we continue to wait for VIP. She has Silver for the show since Gold had sold out before she could buy one.
She told me that before I arrived a fan fainted from the heat and they had to give her medical attention.
It's a lot of waiting and like Irvine the venue's staff handed out water bottles to everyone. After what seemed like forever, Ground Control sets up a table and Justin and another staff member check people in. We're then let to the concession area where we can buy food, drinks, or merchandise.
Sam and I sit down and from where we sit we could see the smoke from the Mt. Diablo fire.
Then Bodyguard Mike makes an announcement and splits us up by VIP level. Venue staff scans our tickets and we head inside. We sit down and Bodyguard Mike tells us the reason they moved us is so we could sit down and be out of the sun.
We also see that the stage is not finished and that's part of why VIP was delayed. It was interesting to see the crew scramble to put the stage together. While we waited Backstreet Boys music was playing. I sat next to a fan named Elizabeth who was from SoCal but she just got off a flight from Korea.
It was close to the doors opening when Backstreet finally came on stage. I really thought they weren't even going to sing but they ended up singing two songs. They sang "Trust Me" and "10,000 Promises."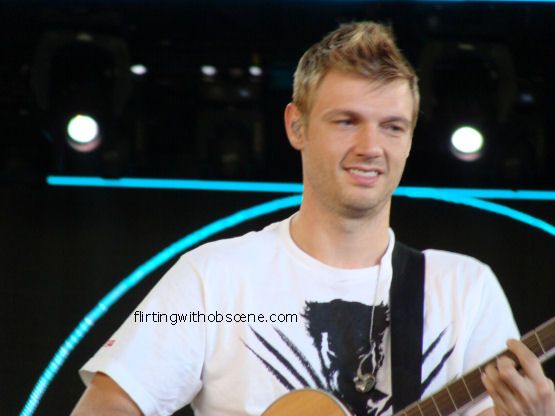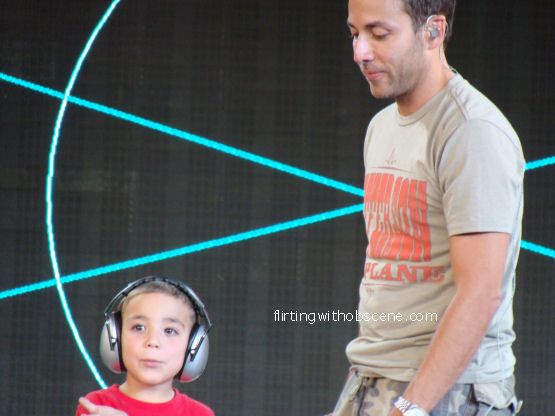 They only answered 2 questions. The first question was what annoyed them about each other in the past but they can appreciate now. Nick said he hated the others commitments to their girlfriends/wives at the time but now he gets it. Howie mocked Nick and said he used to whine and say you guys always want to hang out with your gfs!
AJ, Brian, and Howie talked about Kevin and his traits of being a perfectionist, hard headed, and opinionated. Kevin said Nick's attitude from when he was younger annoyed him lol
My friend Sam got good video of them answering the question here:
http://youtu.be/pISRcWfaJq4
The 2nd question was asked by a fan who was either near or one of the fans who had cut outs of their heads on popsicle sticks. AJ said all he sees is floating heads lol The question was more of a request. She asked if they could harmonize to "Shape Of My Heart." To warm up Brian started singing his verse ultra fast and then they eased into the chorus and harmonized beautifully.
I don't remember who but one of them, (I think Brian) asked if it was okay to add an extra song to the set tonight. Of course we all answered yes. Then they took a poll between "Shape Of My Heart" or "More Than That." Then Brian said something like why are we voting, let's do them all!
That got my hopes up that they'd do something extra special since it was the last show of the tour. Unfortunately, they didn't add any songs and in my opinion it didn't really feel like they added anything special at all. I guess my expectations were too high that they'd do something fun or pull pranks while on stage.
Toward the end of that question, all of a sudden a surge of people just come in like a tidal wave. They were all running. I think some were running to get a good spot on the lawn and some were running because Backstreet was still on stage.
It's time to take pictures and I see Photographer Justin and the Bodyguards try to feel out the situation since people were already in the venue and they had to figure out how to situate the picture line.
First they ask for those with Pit tickets to line up first. Then by each VIP level we line up. The amount of VIPs for Concord felt like Universal City and Irvine combined. There was a lot of us! I was about 10 people away from taking my picture when one of the bodyguards announced that they were pausing VIP so Brian could go on stage to introduce and watch Baylee perform his 2 songs.
While this happened I noticed AJ took this opportunity to smoke a cigarette. That amused me so much that he would use Baylee's performance as a smoke break.
I had some time to examine my surroundings. I noticed on the wall was a paper that had the different backstage passes and the different meanings of them. It let security know who had access to what and what they could and could not do. Some passes didn't allow for pictures to be taken. I noticed that the passes the Bodyguards wore were "All Access" passes.
I also saw what looked like parts of Backstreet's stage set. There were instructions on how to put together the set, the exact weight and measurements of the pieces. Also written on them was "JAPAN" so that told me that those pieces would eventually make their way to Japan for their tour there.
Right before my turn to take my picture I was standing next to Bodyguard Drew. I sighed and said, "It's the last show."
He said, "It's the last show for me too."
I said, "Really?"
He said, "No, just for this tour but I still have to work." It's funny how he sees going on tour as work and for me seeing Backstreet on tour is an escape from work.
Backstreet was on a time crunch since DJ Pauly D was on stage already and they were still on the Platinums for the pictures. That resulted in no time for hugs so I shook their hands like we were business associates.
I really wish I could think of a creative pose to do with Bsb but I stuck with the generic go in the middle of them and smile pose. I shook Brian's hand first, Kevin's 2nd, AJ's 3rd. Nick was 4th. When I shook Nick's hand, I looked up and said, "Hi Nick." He then proceeds to smirk and wink at me. I thought winking was Howie's thing?! I'm an overanalyzer so I wondered what brought on the wink.
Howie was the last hand I shook. I then turn to figure out where exactly is the middle and before I can even process that Nick helps me out and directs me to stand next to him by pointing to the space to his right. I love that he knows I want to stand next to him.
When I saw my picture later, it amused me that my left side is like arching toward Nick's side and there's a space between AJ & me lol That was not intentional but my body surely gravitates toward Nick.
After the picture, I exit and I see that the long is still very long. My friend Sam had silver so she was toward the back of the line. I killed some time finding our seats which were okay. They were row A in the orchestra but off to the side on stage left. I would have loved pit again like Irvine but the tickets went on sale at the last minute and I didn't feel like scrambling to sell the tickets I had.
My seat mates to my right were Diana, Jenna, and Julianna who I met at past events. DJ Pauly D was still on stage but I wasn't really paying attention. Julianna had mentioned she had a tough time finding where the After Party passes were for pick up.
I decided to try my luck and find the After Party table myself. In Universal City and Irvine the table was easy to find so I figured it'd be the same for Concord. I was wrong. The table was nowhere to be found. I asked a venue employee and he was clueless. I decided to wait after the show to pick up my pass.
I was a bit hungry so I went to buy food. I got chicken strips, fries, and a coke. The line took foreverrrrr. I missed about half of Jesse McCartney's performance. That disappointed me because I really wanted to see "Leavin'" and "Body Language" again. I had to settle for watching it on the monitors above the concession stand. I would have left the line to see Jesse but I was already in too deep and I didn't want all that waiting I had been doing go to waste.
Once I get my food, I go to my seat and Sam is already there. A few moments after I arrived, AJ snuck on stage while Jesse was talking. It was so fast there I barely saw AJ. I wish he would have stayed on stage longer.
After Jesse's set it's more waiting. A lot of the seats in front of us are empty because most of the people in those seats moved to stand up against the thrust of the stage. Sam and I tried to move up to the thrust of the stage but the venue staff made us go back to our seats. Concord has gotten tougher. I remember in 2005 when I saw Jesse McCartney there I was able to move from my seat and get closer to the stage.
The show starts and I'm in my element again. I love the energy Backstreet gives me during a show. I also love seeing so many people from the Bay Area enjoying the show.
There was one point during the show when Brian says that he's been wanting to do something. He then kisses his bicep and the crowd cheers. For those who don't know, the quarterback of the 49'ers, Colin Kaepernick, has a thing where he kisses his bicep. It's called Kaepernicking.
Kevin also mentioned how last time they were in Concord the lights went out and they had to stop the show. He said that this time they'll make sure the lights stay on. Thankfully it did!
When "Show Me The Meaning Of Being Lonely" plays I make my way to the meeting spot and wait. There's so many Platinums and we all know that if we're in the back of the line we get to sit on the bottom row. There were multiple times where the fans in line would keep moving to the back of the line. I did my best to try to stay in the back but people kept moving so I was like whatever. I had my moment in the bottom row in Universal City.
While waiting to go on stage, Jesse McCartney is wandering around in the backstage area like a regular person. I totally regret not bringing my camera or phone with me to take a picture with him. I then learned later the reason he was hanging around backstage was because he would join us on stage too!
In line I was standing next to a fan named Lorena who I've known from previous events and Elizabeth who I met during Platinum VIP. Lorena asked Jesse about why he was paged earlier during his flight from Las Vegas to the Bay Area. Jesse said that he had dropped his free drink coupon and the flight staff thought it was very important that he get it back.
We're then ushered closer to the stage. Backstreet is in the middle of performing "We've Got It Goin' On." Since part of the dance routine is to dance on the steps, some of them could see us waiting in the wings. I remember Howie and Brian looking at us and smiling and making funny faces at us.
Also while waiting we saw Baylee and Leighanne. I thought they were just hanging but they too were waiting to get on stage. Apparently, since it was the last show, the crew, some family members, Jesse, and his crew all came on stage. DJ Pauly D and his crew were the only ones absent.
We all then get on stage. I'm in the last row on the stage right side. I would have liked to be closer but at least I had my chance in Universal City. It seemed the Concord Platinums were more eager to sit on the first row.
After the fans were seated that's when Jesse, his crew, Leighanne, Baylee, and Backstreet's crew came to sit on stage. I remember seeing Ground Control Eddie sit on stage and he looked so bored and tired.
It felt different being on stage a 2nd time. I guess the novelty wore off since I'd already been through it once.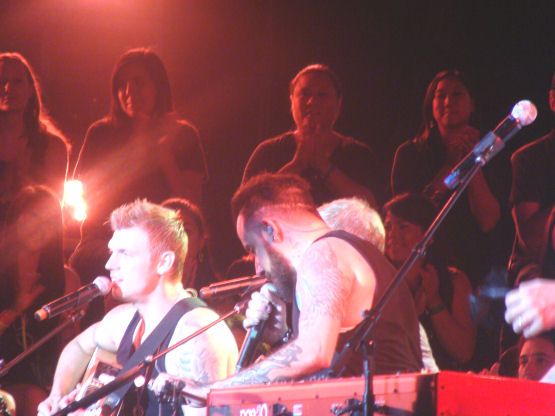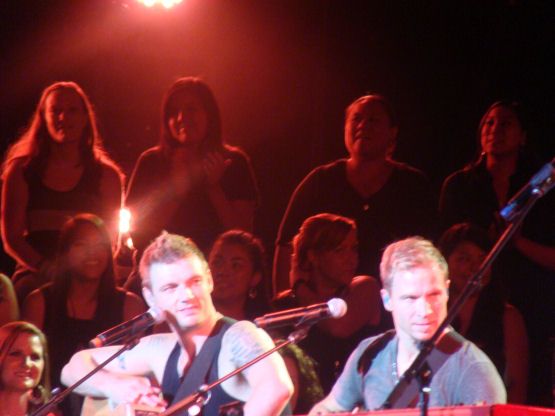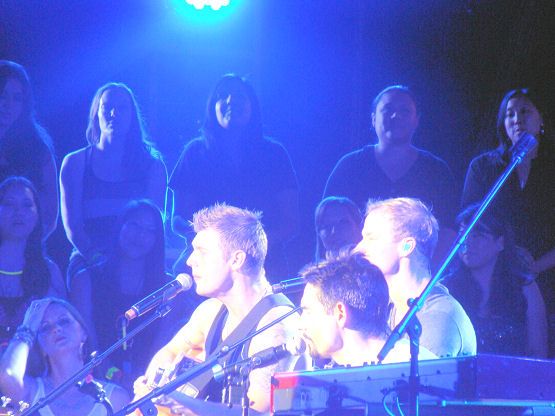 I was hoping since it was the last show they'd throw in an extra song during the acoustic set but they didn't. After "Quit Playin' Games" we were kicked off stage. Before we went to our seats, a female venue staff member gave us the Platinum VIP poster. While I was happy to get the poster, I wish Ground Control would realize it's not so easy carrying it at a concert. I think they should stick with mailing it like for the Universal City Platinums to prevent it from getting damaged at a show.
The rest of the show goes smoothly. I loved hearing Backstreet say "Concord" when hyping up the crowd. I remember a part near the end of the concert. I saw a venue staff member briskly walk by holding a bottle of gatorade which he then passes to I think Bodyguard Drew. While there was a brief pause in the show where Bsb goes off stage to set up for the next song, I see Nick gulping down that gatorade like there's no tomorrow.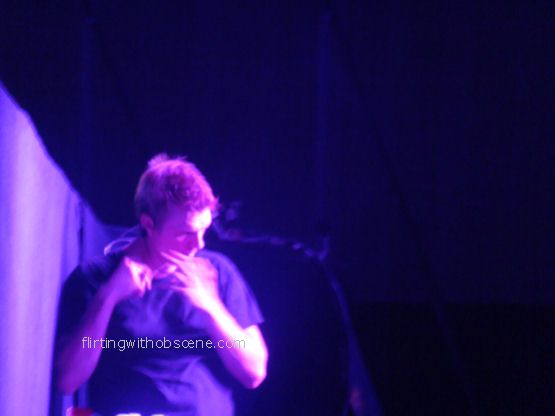 Back in 2008, during the last show of the Unbreakable tour in Hollywood, I'll never forget when Nick took off his tank top and was shirtless on stage. I always hang on to that memory whenever it's the last show of a tour and hope there's an encore of that. Unfortunately there wasn't and Nick didn't do anything like that in Concord.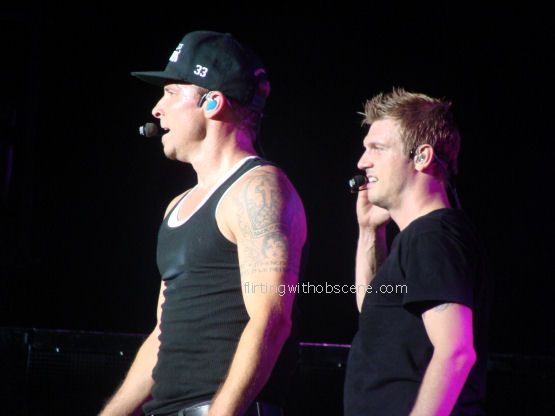 After "Larger Than Life" the "In A World Like This" tour is over. Sam and I make our way out of the seating area and try to find the After Party check-in table. There's already two huge lines formed. One line is for people with passes already and there's another line for people needing to pick up their passes or buy them.
In the pick up/buy line I spot Courtney and we stay in line together. Sam waits with us for a while. I tried to convince her to go to the After Party with us but she declined since she was driving to LA the next day and needed to rest. Rachel and her cousin were there too, however, they weren't doing the meet and greet. Then we spot Leslie. Courtney, Leslie, and I end up being in a group for our picture.
The wait for the picture was very long. We were near the back of the line so it was extremely rushed. I got a Howick sandwich though! After the picture we try to make our way to where the stage is. There was a crowd lingering around so it was hard to pass through. Then about 5 minutes later, Howie, Kevin, and Nick pass by which took me by surprise. I didn't think they would pass that way and that they'd be done with the pictures already.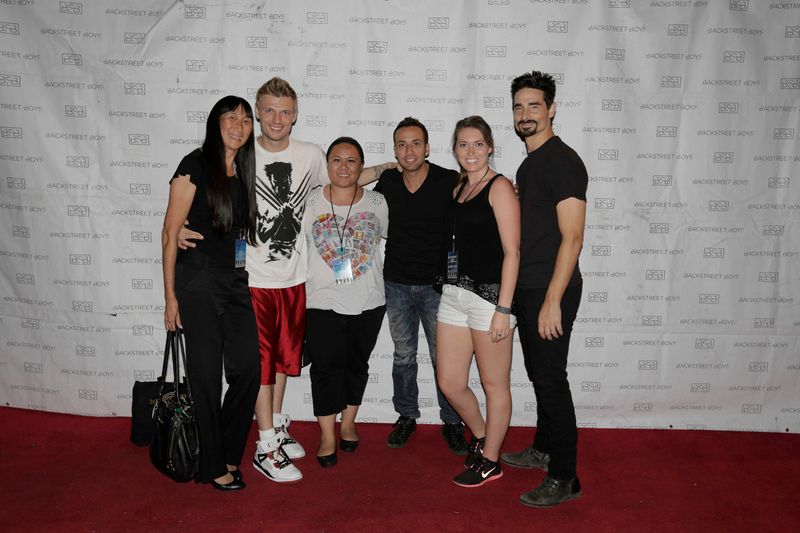 The party kicks off again with Black Eyed Peas' "I Gotta Feeling." Nick plays mostly the same songs he played at the 2 past parties I attended. Since Courtney and I entered the party late I thought we had no chance of making it on stage. There was a fairly large crowd already.
Courtney found a spot on the side of stage left. As each song played we seemed to get closer and closer to the stage. Suddenly, I was right up against the stage. Howie was right in front of me, dancing, and getting the crowd hyped. The girls next to me were getting selfies with him. I thought about getting a selfie with him but I just didn't want him to bend down to my level and then have to worry about getting the right angle for the selfie.
I guess not bombarding him for an awkward selfie worked out in my favor because Howie looked down and right at me. I raised my hand to him and he nodded his head. Then he took my hand and pulled my fat ass on stage. The 3rd after party was a charm.
I didn't want to be on stage by myself so I motioned to Howie to grab Courtney on stage too. Like the sweet person he is, he pulled her up too! We danced for like 5 seconds until 2 other fans bombarded him for selfies on stage. I turned around to look at Nick but he was so deep in the DJ zone I didn't feel right interrupting his flow to take a selfie with him.
Since Howie pulled me on stage I touched his shoulder and took a selfie with him. Then I continue dancing. Then I decide to check the picture I took. Like I dumbass I had the camera still on zoom. Before I got on stage I reminded myself to check the zoom but of course my camera somehow was still set on zoom!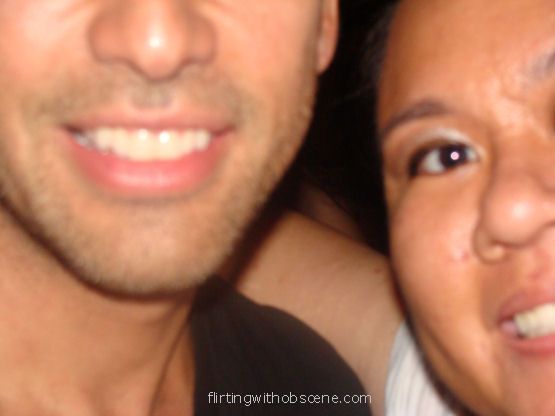 The 1st picture I took ended up being Howie's nose and mine lol I hated to bother him again but I did anyway and tell him the picture didn't come out so we take another one. I made sure to check right away and this time the pic came out.
Then Bodyguard Mike starts yelling at everyone to get off the stage. I start walking off the stage and pass by Kevin who's still taking pictures with the fans on stage. As I'm walking off stage, Bodyguard Keith is telling the fan Kevin is currently taking a picture with to get off the stage. Kevin gets mad at Keith and says, "She just got on stage."
Keith ignores him and asks the fan to get off the stage. Kevin repeats himself in a more firm tone and says, "She just got on stage!" I thought that was so sexy Kevin was taking the side of the fan and standing up to his own bodyguard.
I tried to stop to get a picture with Kevin but Bodyguard Mike cock blocked me from him. He yelled at me, "MA'AM PARTY'S OVER GET OFF THE STAGE." Kevin was too preoccupied with the fan he was currently taking a picture with to notice this unfortunately. I pout and sadly walk off stage. I realize "Ma'am" is a polite thing to say but damn, it makes me feel old. I prefer to be addressed as "Miss."
I'm glad though I made it on stage even if it was just a brief while. That was a nice experience to cap off my In A World Like This Tour.
Kevin and Howie talk about how sadly they have to end the party because there's houses nearby and there's a curfew. The last song played is "Don't Stop Believin'." There was one lucky fan who got to stay on stage while Howie, Kevin, and Nick sang to the song. I'm not sure but I'm thinking she got to stay because she was the one Kevin was telling Keith she just got on stage.
And just like that, the tour I had waited months for was over.
I really need to learn how to invent a rewind button because I can't get enough of seeing Backstreet. The days leading up to my first show of the tour had been so tough for me at work and getting to let go and escape through their shows was much needed.
Courtney and I decided to have a midnight meal at a Denny's in Concord. I ordered a "Moons Over My Hammy" which I think I subconsciously did since my next event is the Backstreet Cruise that kicks off in Miami. We chatted and reminisced about the tour and life. We say our goodbyes and I drove home at around 2 AM. I fell asleep around 4 AM but I had to wake up at 9:30 AM for work. I may complain about work a lot but I really am thankful to have a job that can support my Backstreet Boys addiction.
As with my other reviews, if you made it this far, I commend you for having the attention span and patience to read through it all.
You can follow me on Twitter:
http://www.twitter.com/berrydelicious/
You can add me on Facebook:
http://www.facebook.com/flirtingwithobscene/